Home Flow Hive 2 –– Araucaria 6 Frame
Flow Hive 2 Araucaria - Available now
Our bestselling Flow Hive 2 manufactured in Australian Araucaria – Australian owned, grown, designed and manufactured. 
With bonus new must-have features, including a Flow Harvesting Shelf, this elegant beehive is perfect for beginners or experienced beekeepers and contains 6x Gen2 Flow Frames, featuring our revolutionary honey harvesting technology.
Invented by father and son team Stu and Cedar Anderson, our patented Flow Frame technology is the most significant advancement in beekeeping since 1852.  It is now possible to simply turn the Flow Key and watch as pure, untouched, unprocessed fresh honey flows right out of the beehive and into your jar.
Crafted from premium Australian Araucaria the Flow Hive 2 includes two observation windows in the specially modified Flow Super, a unique base with ventilation control and inbuilt multipurpose tray plus our distinctive gabled roof.
Integrated adjustable hive stand – optional extra
The Flow Hive 2 is manufactured with a 3º slope towards the honey outlets for optimal honey harvesting, created by two footblocks attached to the front of the base.
As an optional extra, we have created this handy integrated adjustable beehive stand for those who don't have a hive stand, to enable the beehive to be freestanding at your perfect hive location. 
This special edition allows you to control the level of your beehive even on uneven surfaces.
Simply wind each individual leg to the required height, using the handy inbuilt spirit levels located at the side and rear of the base as a guide. The spirit levels are custom made to be aligned when the correct slope has been achieved.
Add this upgrade accessory to your Flow Hive for $109.

 *This accessory is only compatible with Flow Hive 2 and cannot be added to the Flow Hive Classic
.
TIMBER - AUSTRALIAN ARAUCARIA (HOOP PINE)
Crafted from sustainably harvested Australian Araucaria (Hoop Pine), using precision laser manufacturing.
Araucaria is a premium Australian native cabinet timber, highly regarded for its stability & durability. To ensure it lasts a long time outdoors, two good coats of quality weatherproof sealant such as exterior house paint is a must. You can be as creative with the paint job as you like!
Read more about sealing your product here.
Timber included in this product is made from naturally grown resources – each hive will be slightly different in character. Please see our FAQ for more information on our natural timber characteristics.
FLOW FRAMES – BPA & BPS-FREE PLASTIC
Made in Australia from durable, highest quality food-grade, BPA and BPS-free plastic, Flow Frames have taken the beekeeping world by storm.
We have worked hard to ensure that our Flow Frames are manufactured from the very best food grade materials.
The clear viewing ends of the frames, as well as the honey tube and caps, are made from a virgin food grade copolyester. The manufacturers have assured us that it's not only BPA-free, but it is not manufactured with bisphenol-S or any other bisphenol compounds.
The manufacturers also advise that third-party labs have tested this material and the results have demonstrated that it is free of estrogenic and androgenic activity. The centre frame parts are made from a virgin food grade polypropylene which is also free from any bisphenol compounds and is widely accepted as one of the safest plastics for food contact.
Plastics have been used for many years in beehives for both brood and honey combs and have not been found to have a negative impact on bee colonies.
Store Flow Frames in a dry, cool, dark location out of direct sunlight when not in use. You can find further information in our FAQs.
This product is the same width as a 6 frame Flow Hive/Super, or an 8 frame Langstroth hive/super/brood box.
More precise dimensions are available here in our FAQ.
How much honey can I harvest?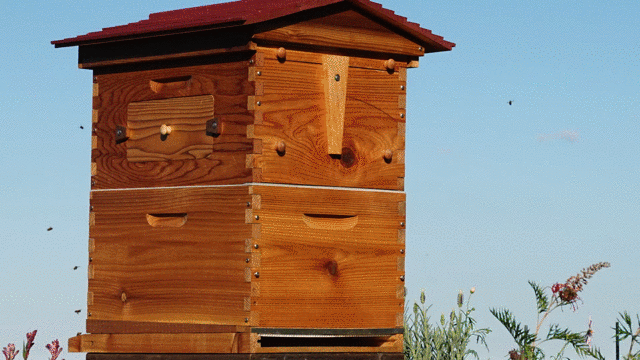 (Timelapse image shows 18kg honey harvest from 6-frame Western Red Cedar Flow Hive Classic)
Harvest up to 18 kgs (40 lb) of honey when the 6-frame super is full. Watch as fresh, pure unfiltered honey flows from the back of the hive directly into your own jars. No filtering, no mess.
Each Flow Frame holds approximately 3 kg (6.5 lb) of unprocessed honey, this can increase if the bees really build each frame out. Bee prepared with extra jars in case your first one overflows!
For more information on honey collection see our FAQ.
New to beekeeping and not sure where to start?
Beekeeping is such a fascinating pastime enjoyed the world over by people from all walks of life.
Learning about looking after your bees is a fascinating and truly rewarding experience. They are amazing little creatures!
We love welcoming new beekeepers worldwide into the Flow family and have a swarm of resources to assist you in your journey.
Included with the purchase of any of our Flow products is support from our knowledgeable Flow team via: