Bee the Change!
Here's a sweet offer to help you get started – sign up for $50 off your first Flow Hive!
Flow® harvesting technology, made in Australia
Created from highly durable, sustainably-sourced, A-grade, western red cedar, the Flow Hive 2+ is laser-cut and built with precision by us in Australia.
Flow® harvesting technology, made in Australia
Created from highly durable, sustainably-sourced, A-grade, western red cedar, the Flow Hive 2+ is laser-cut and built with precision by us in Australia.
Frequently Asked Questions
Starting as a beginner
It's easy to get started but important to learn as much as you can. Check out online resources or connect with a local mentor to kick start your learning.
Starting with a Flow Hive
Flow Hives are a fantastic hive for beginners as they're easy to use and make harvesting honey so much easier for the beekeeper and so much gentler on the bees.
Can anyone keep bees?
Yes! People keep bees all over the world, even in urban areas. Anywhere that bees can naturally survive, you can become a beekeeper.
How much work?
Keeping bees is an absolute joy, so maybe work is the wrong word 😉 The amount of time needed will vary at different times of the year – the amount of time required is minimal.
Fast Fashion v's Eco Fashion
Did you know that all of your buying choices have a flow-on effect?
It's easy to consider the health benefits of reducing your intake of harmful chemicals by eating organic food, however, the choice to buy organic over non-organic is about more than just your health.
Buying organic produce supports organic farming practice, which makes this a commercially viable option for farmers. This has the added bonus of helping farmers to provide clean forage for pollinators and a home which isn't poisonous.
The simple choice of buying an organic cotton T-shirt over a regular cotton T-shirt means that the thousands of flowers grown to produce it have been able to grow without the use of pesticides. This has an enormous effect on the local surrounding flora and fauna.
"Buy less, demand more!" – Patagonia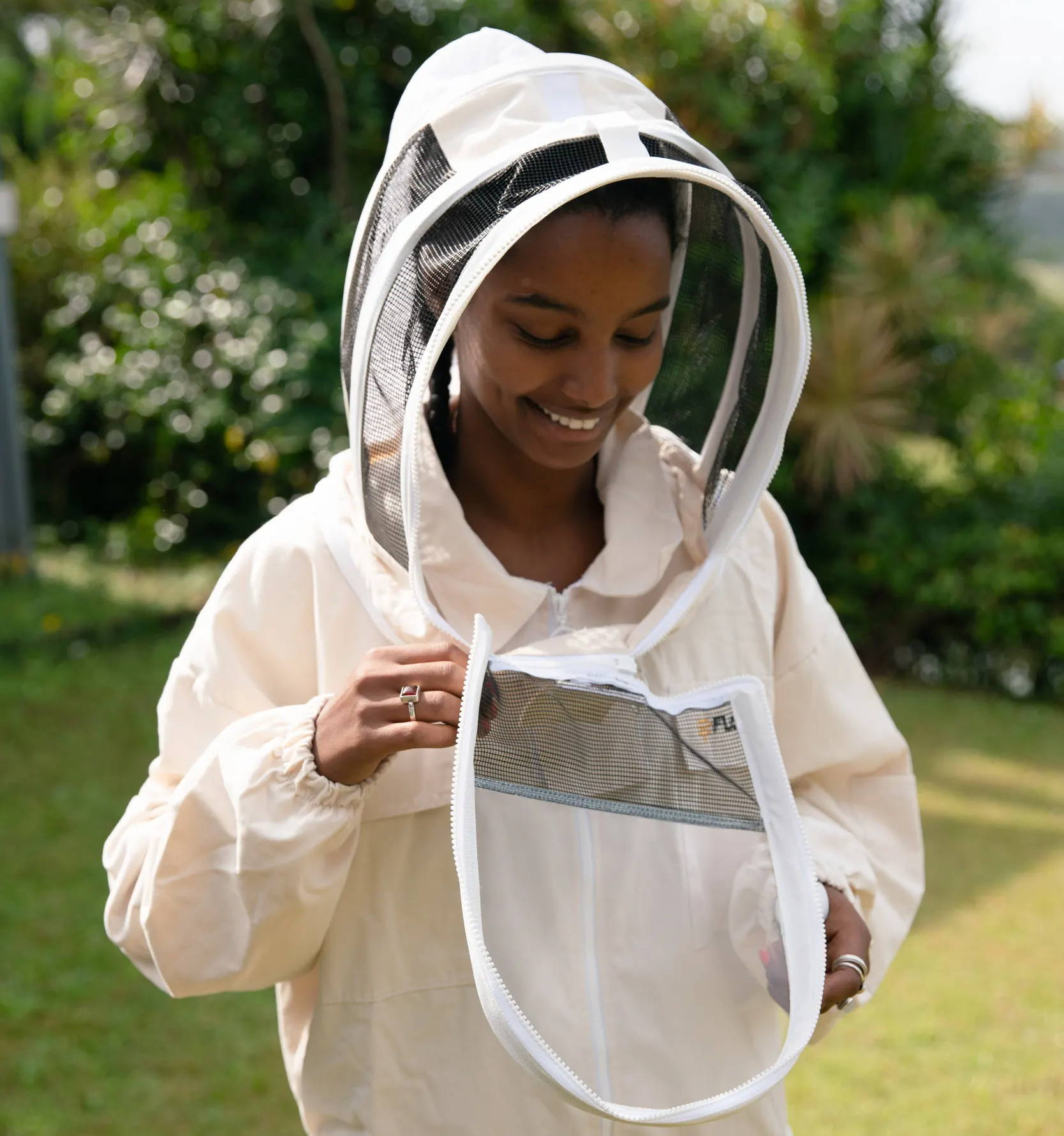 Why honey is "sweeter" than sugar
Most people are aware of the health benefits of ditching refined sugar for alternative sweeteners such as honey, yet many don't realise that making this change can also have a huge impact on the environment.
The growing and processing of sugar has major environmental impacts, like loss of habitat, excess water usage, heavy use of agro-chemicals, plus water and air pollution which affects localised and downstream ecosystems.
When you compare this process with the incredible positive impact to the environment when you introduce a beehive – the pollination power of up to 5 million flowers a day! – it really is an easy and sweet change to make.
Join in with the whole family
It's not surprising children love beekeeping. It's especially easy to get them involved with our hive observation features, which provide a window into the fascinating world of bees.
Build your children's confidence and knowledge of the natural world – beekeeping is a valuable skill and experience that holds many moments of life-long learning.
Plus, start learning with one month FREE access to our online beekeeping course.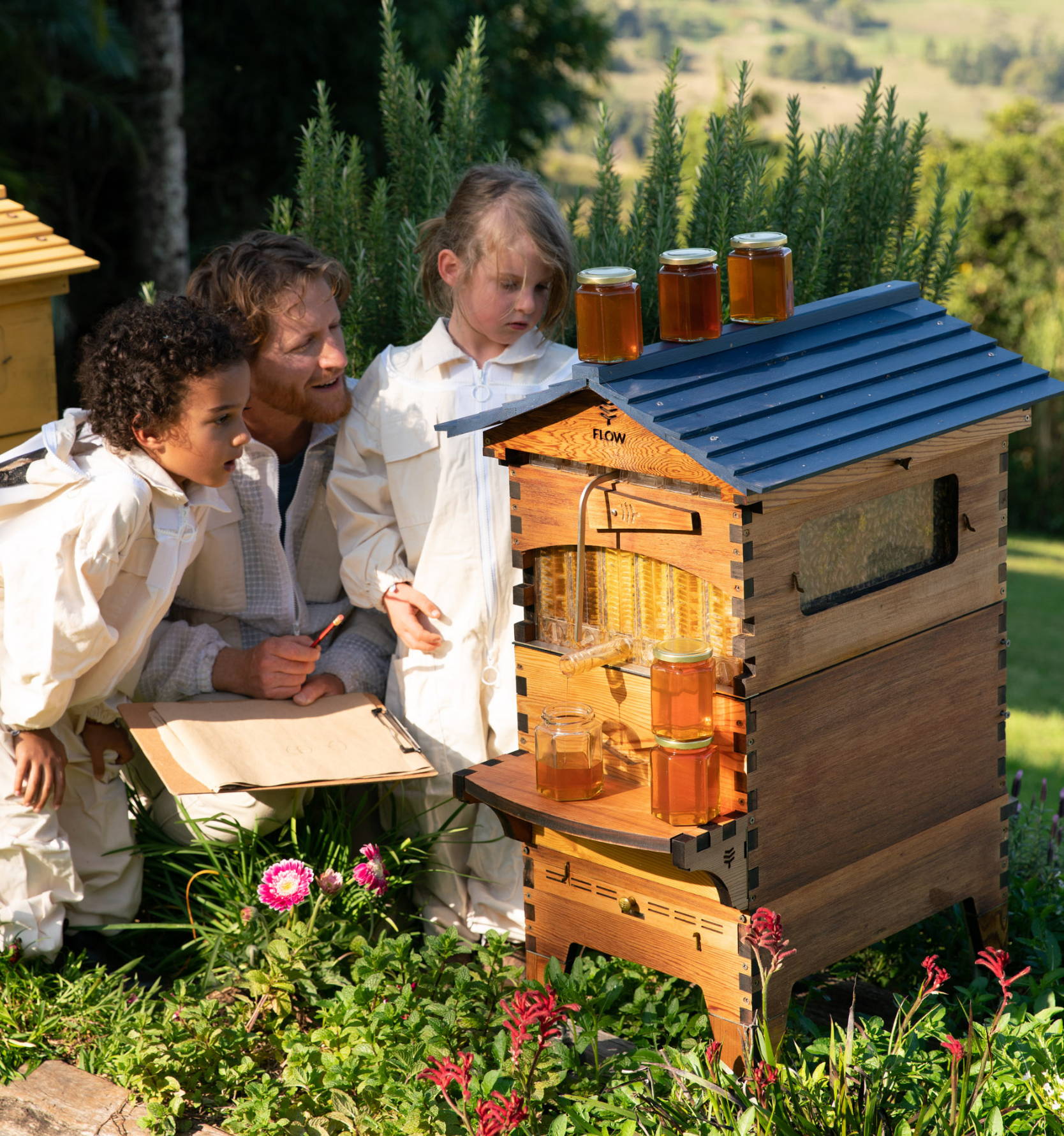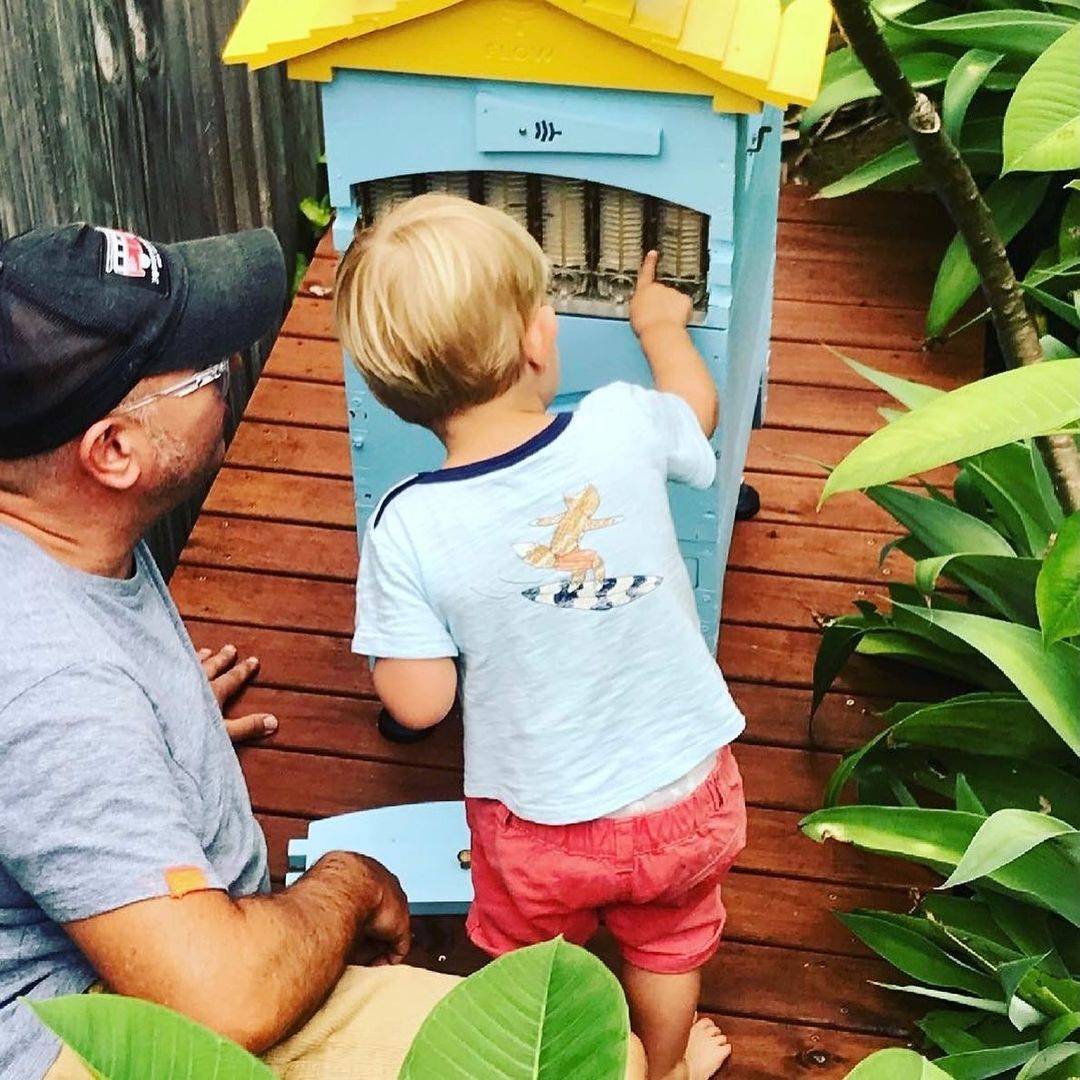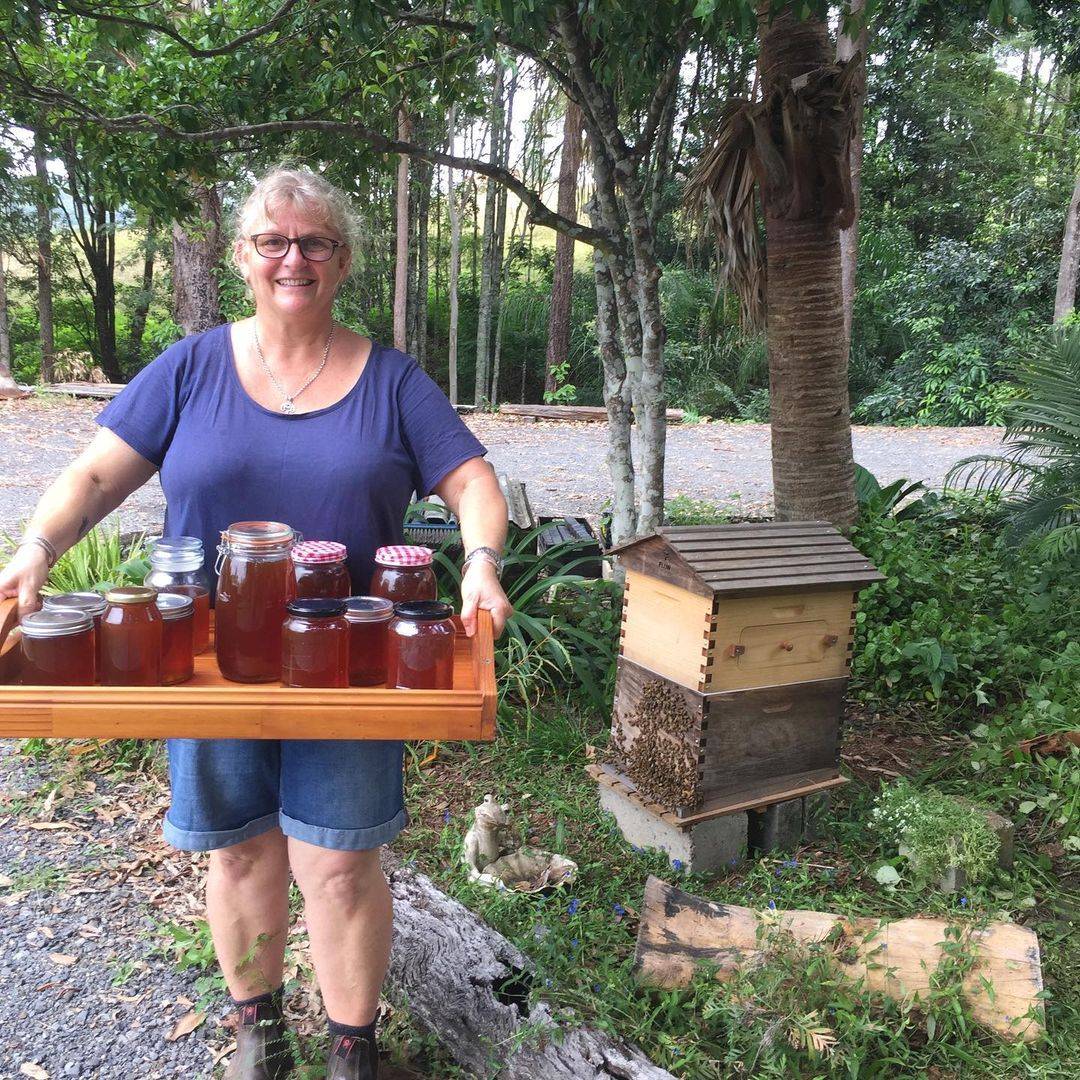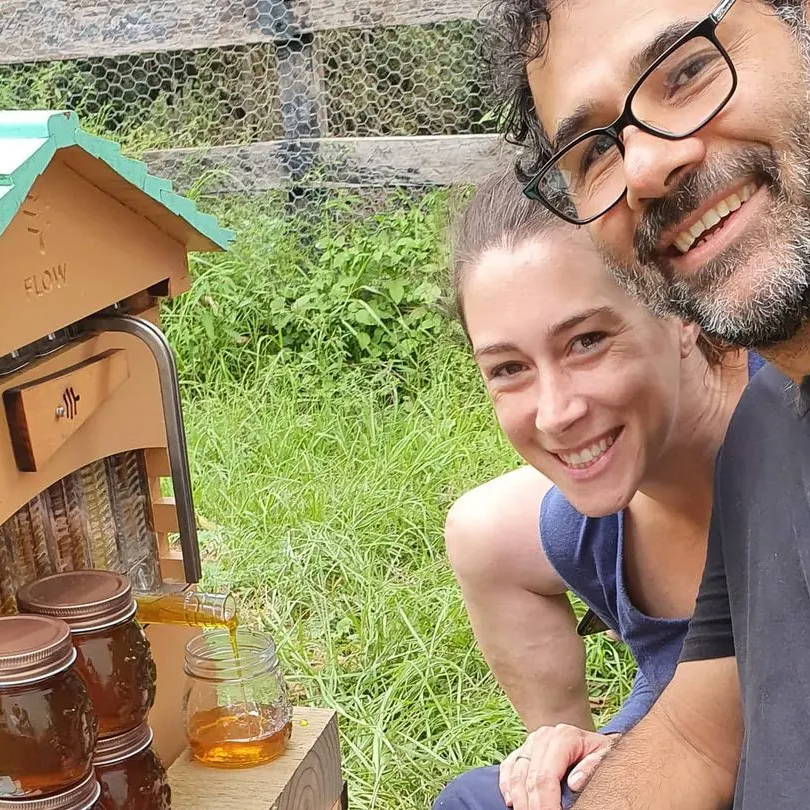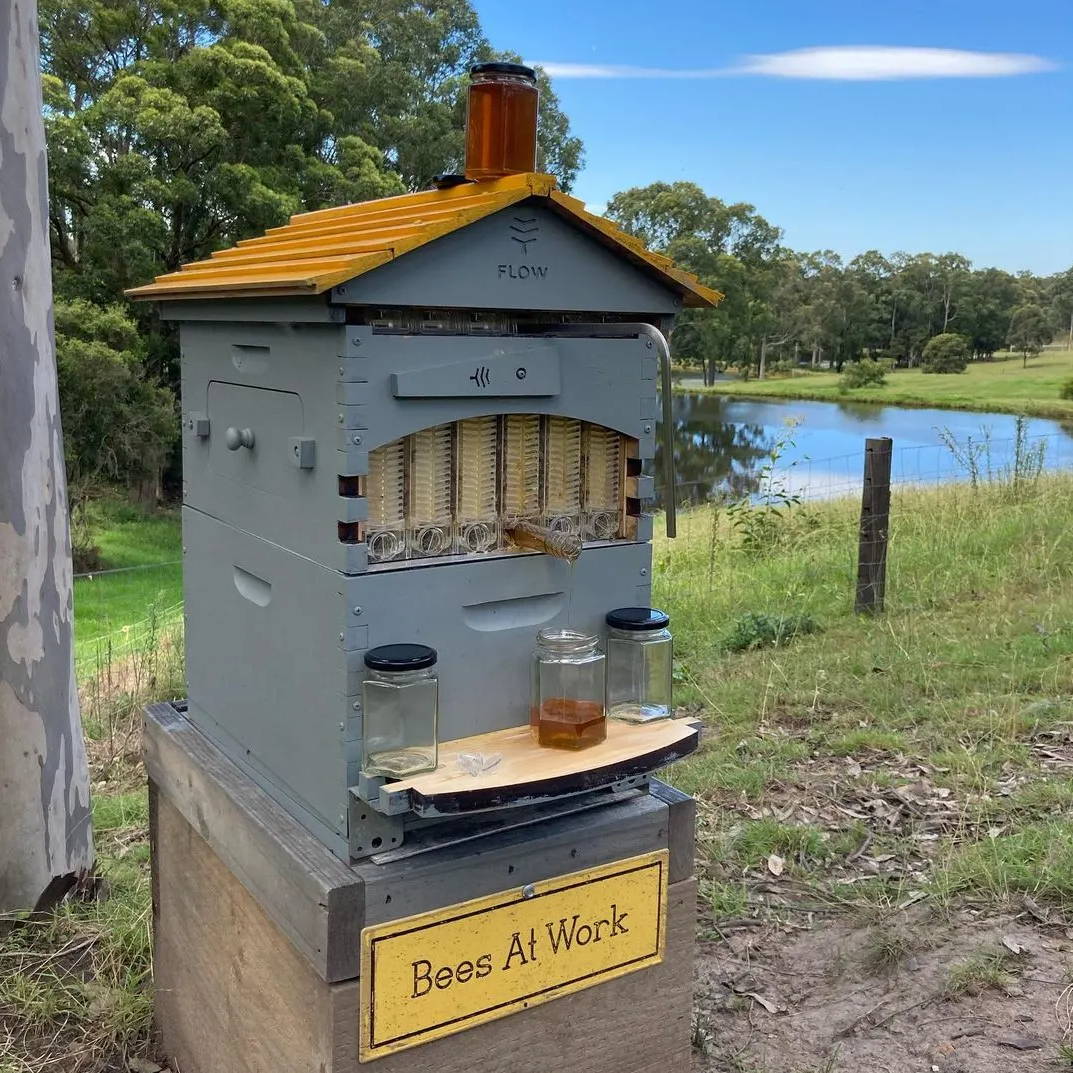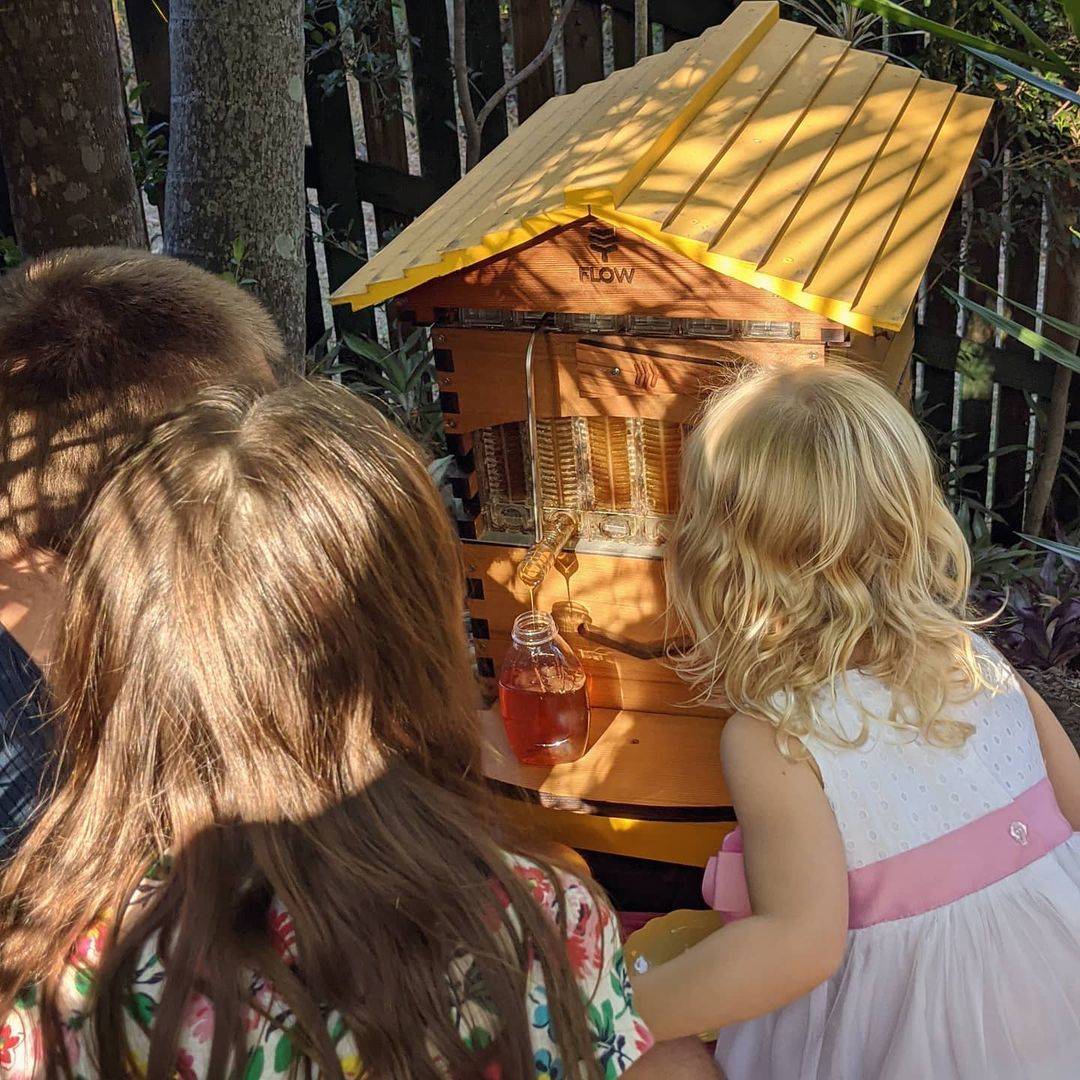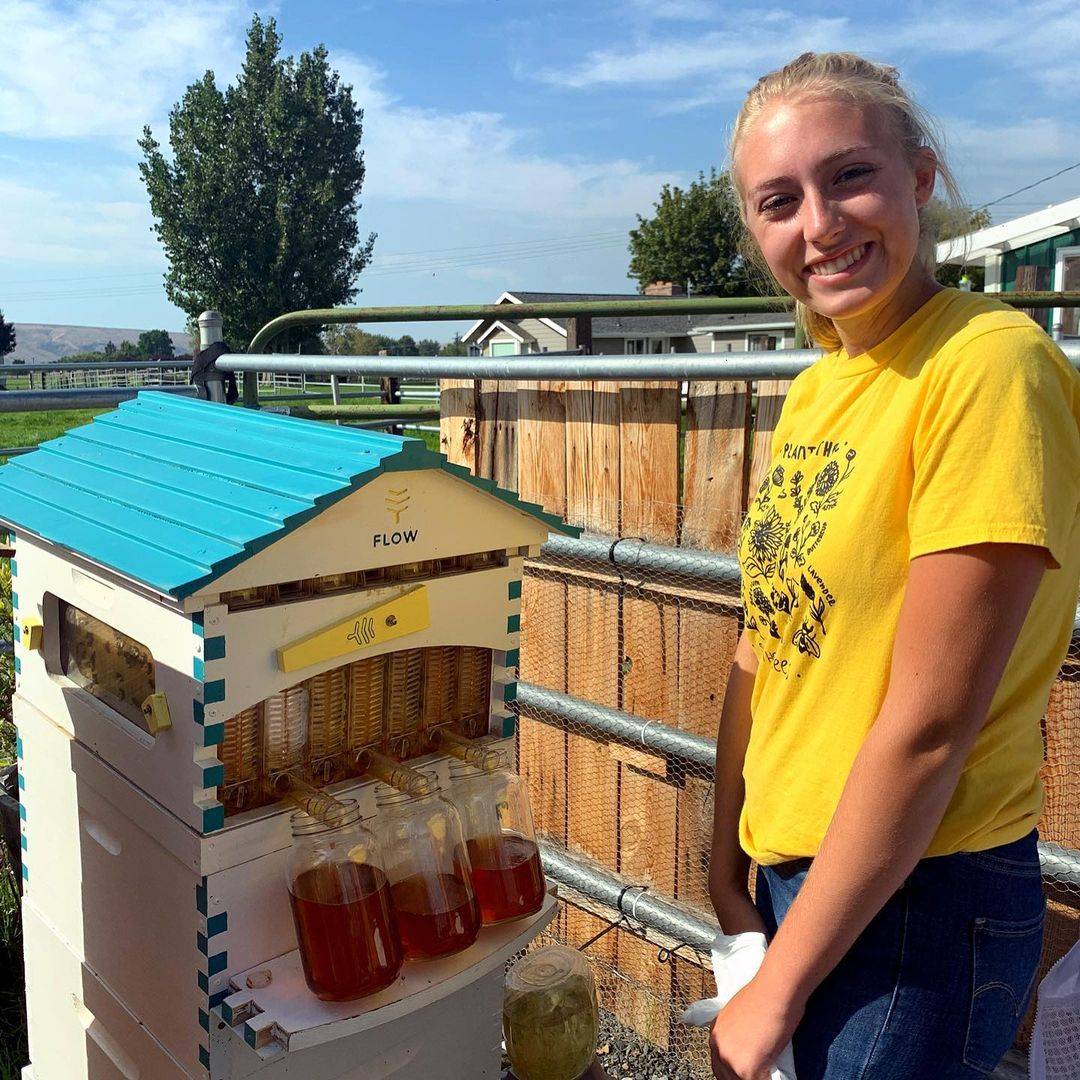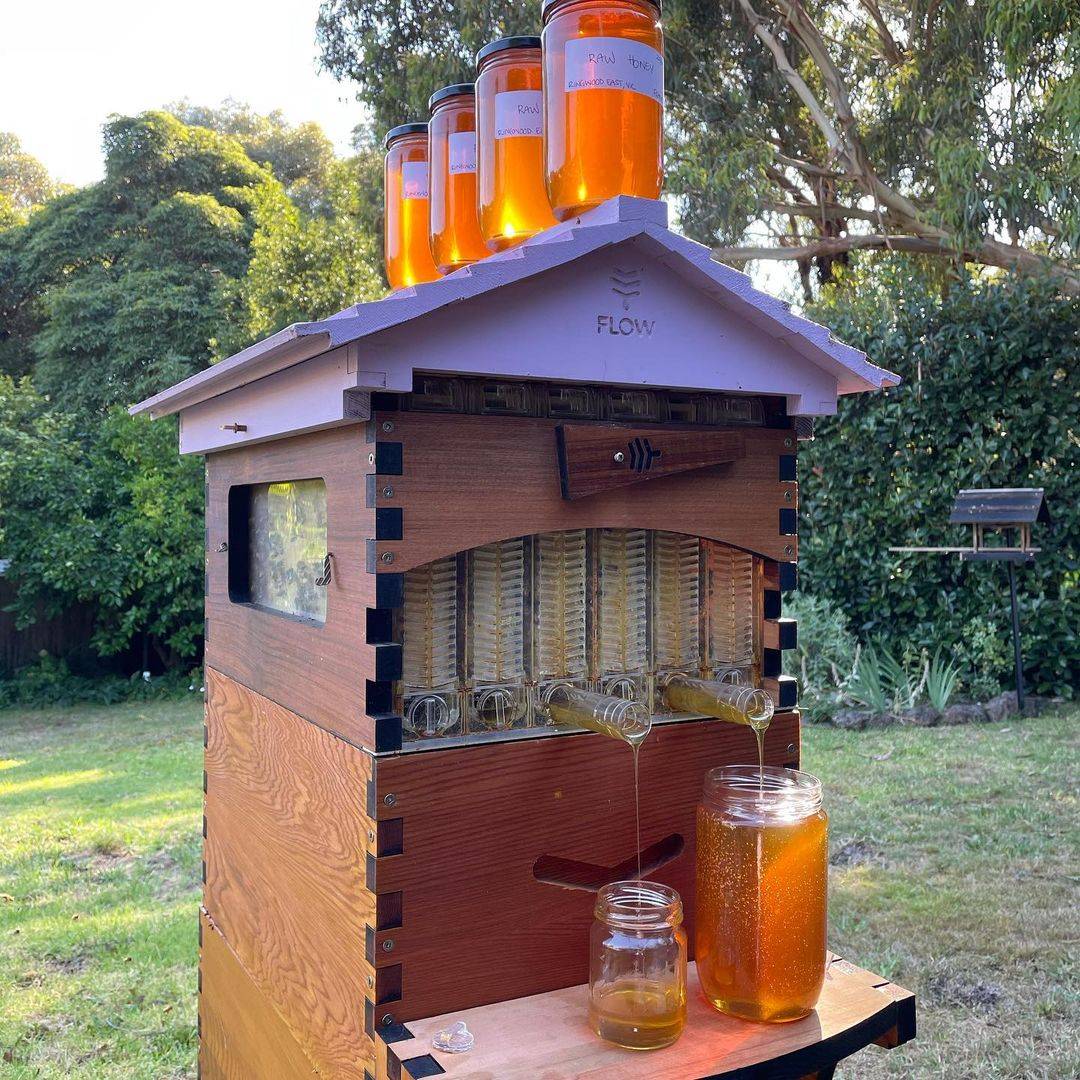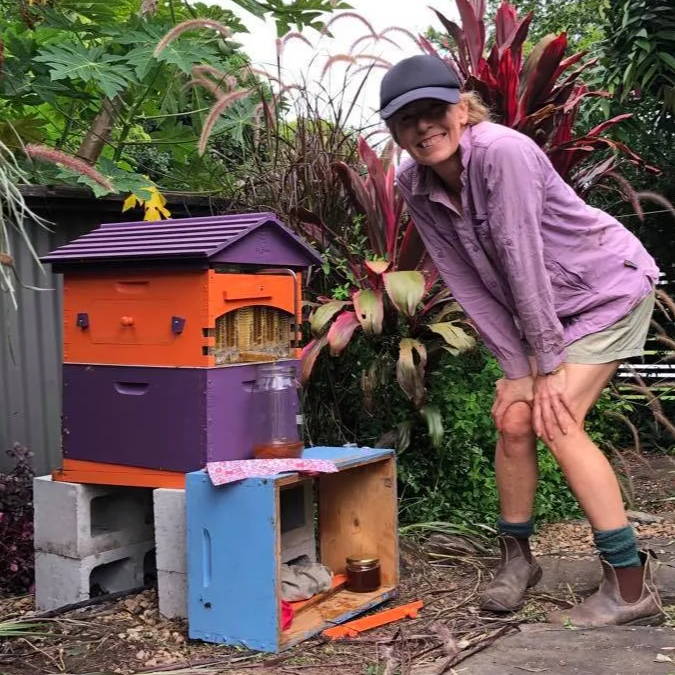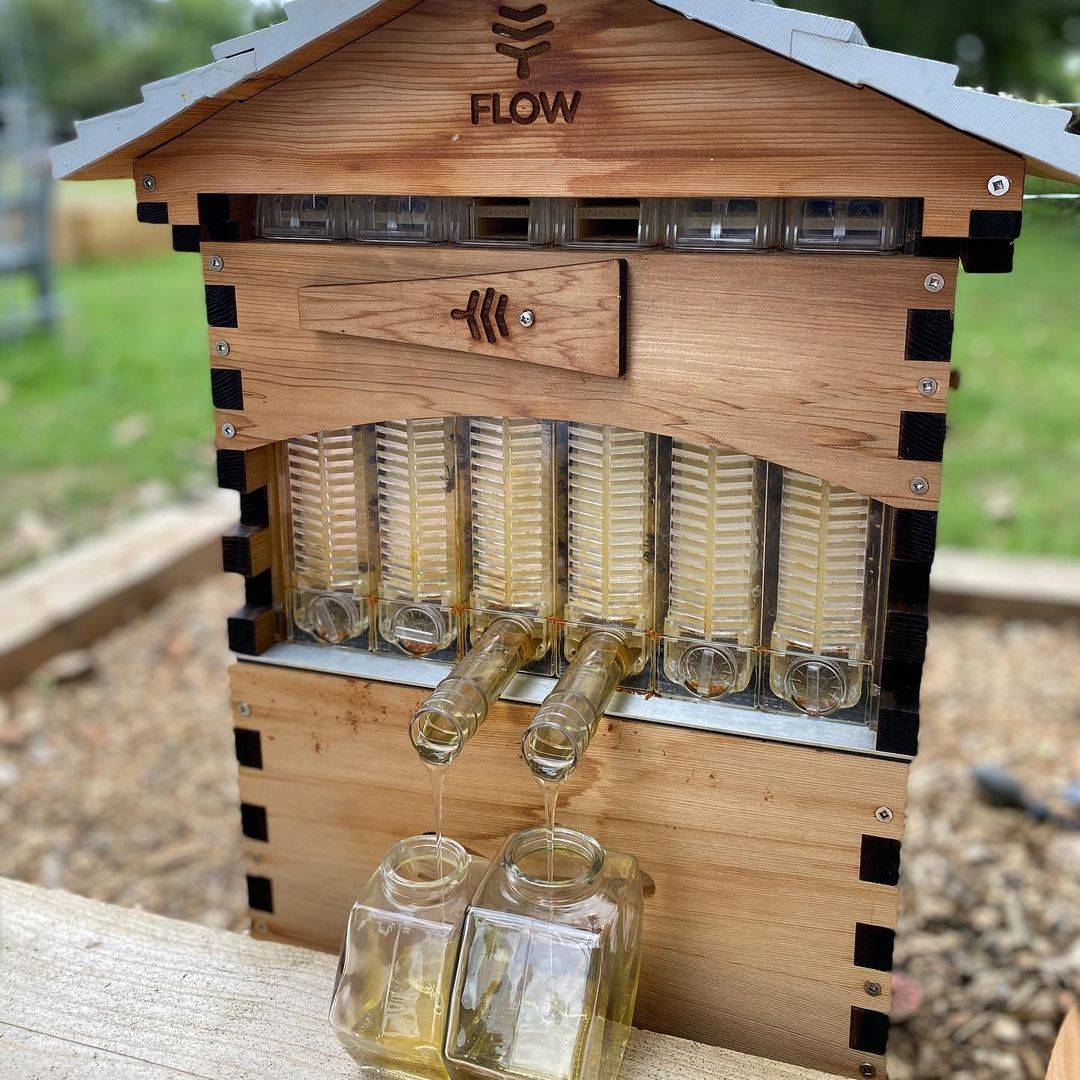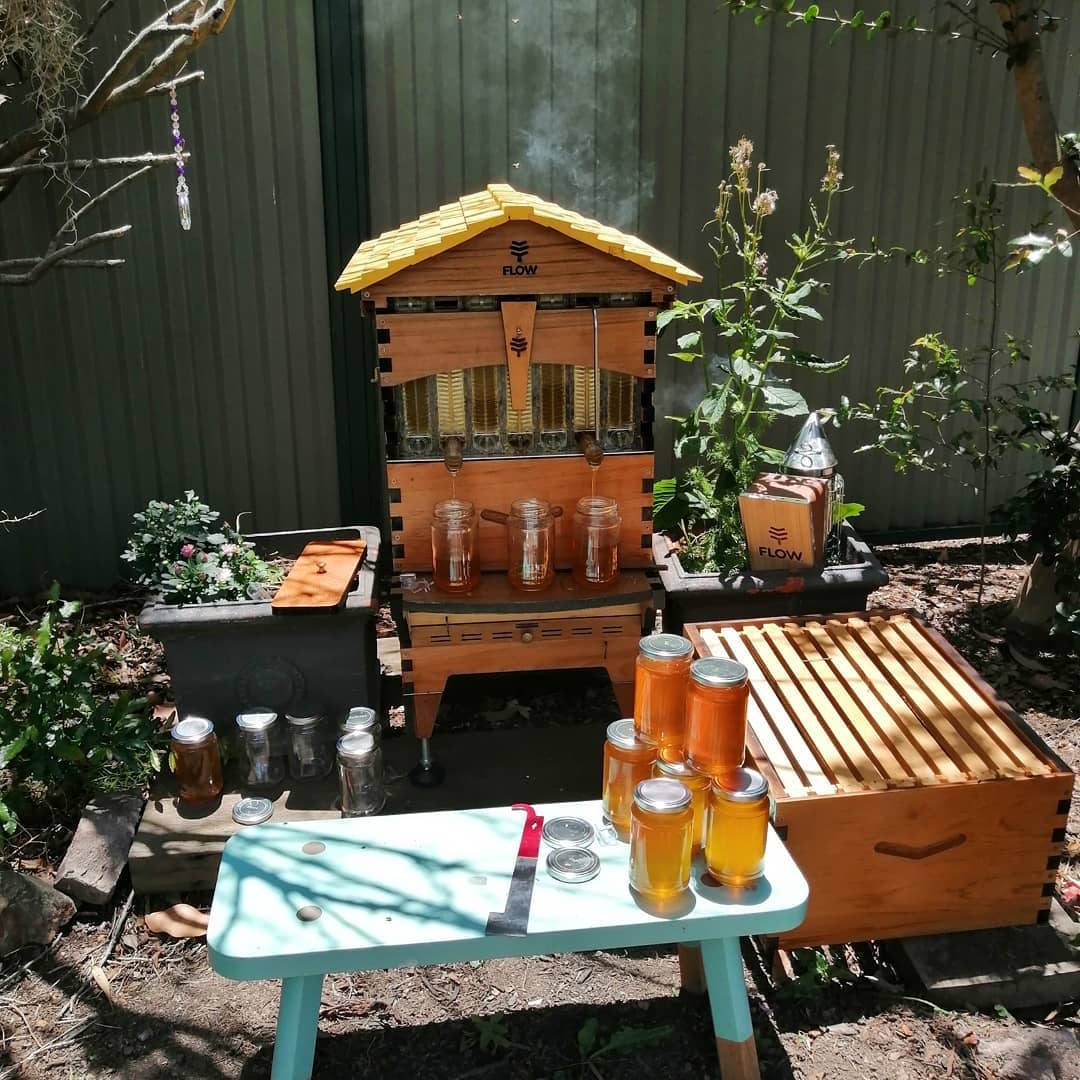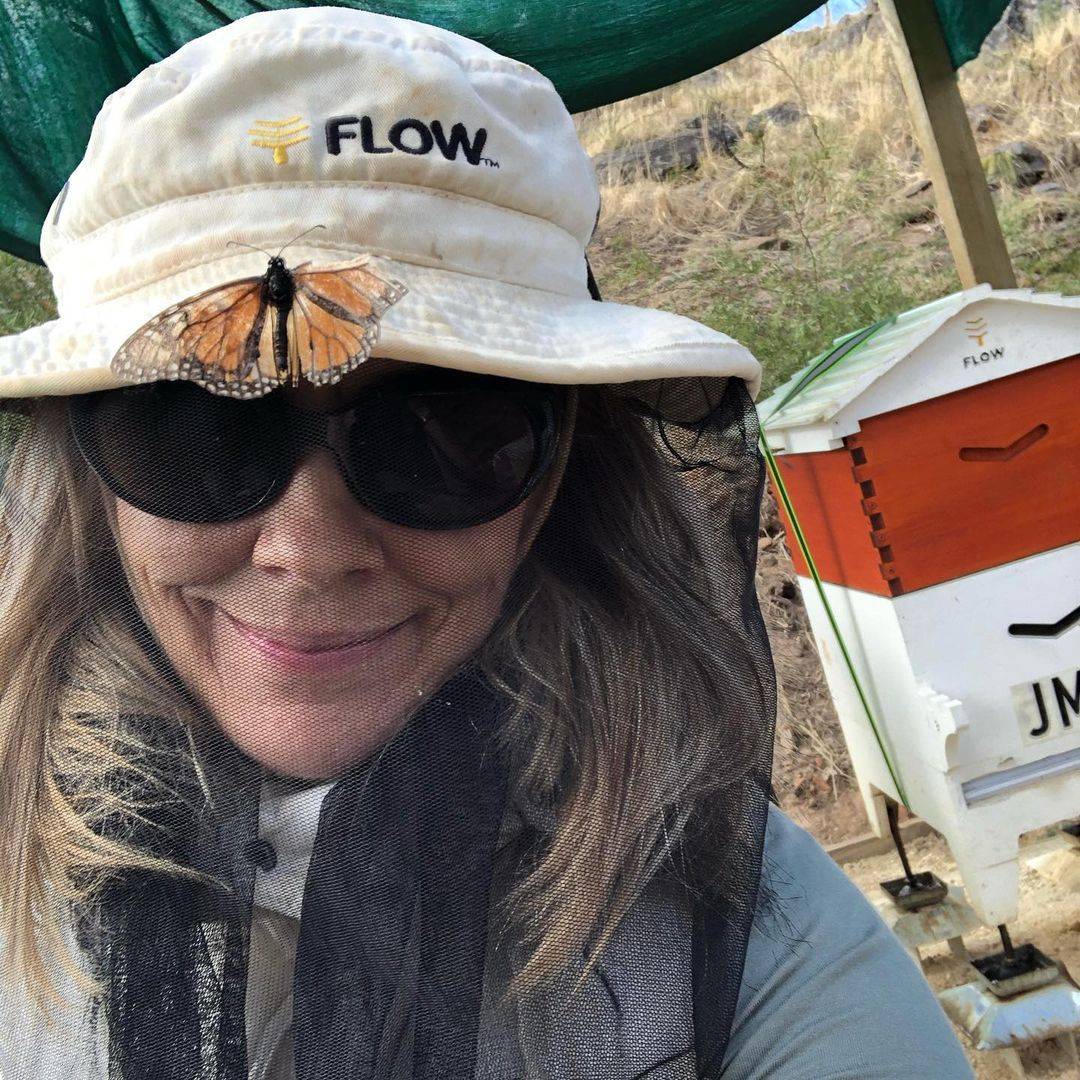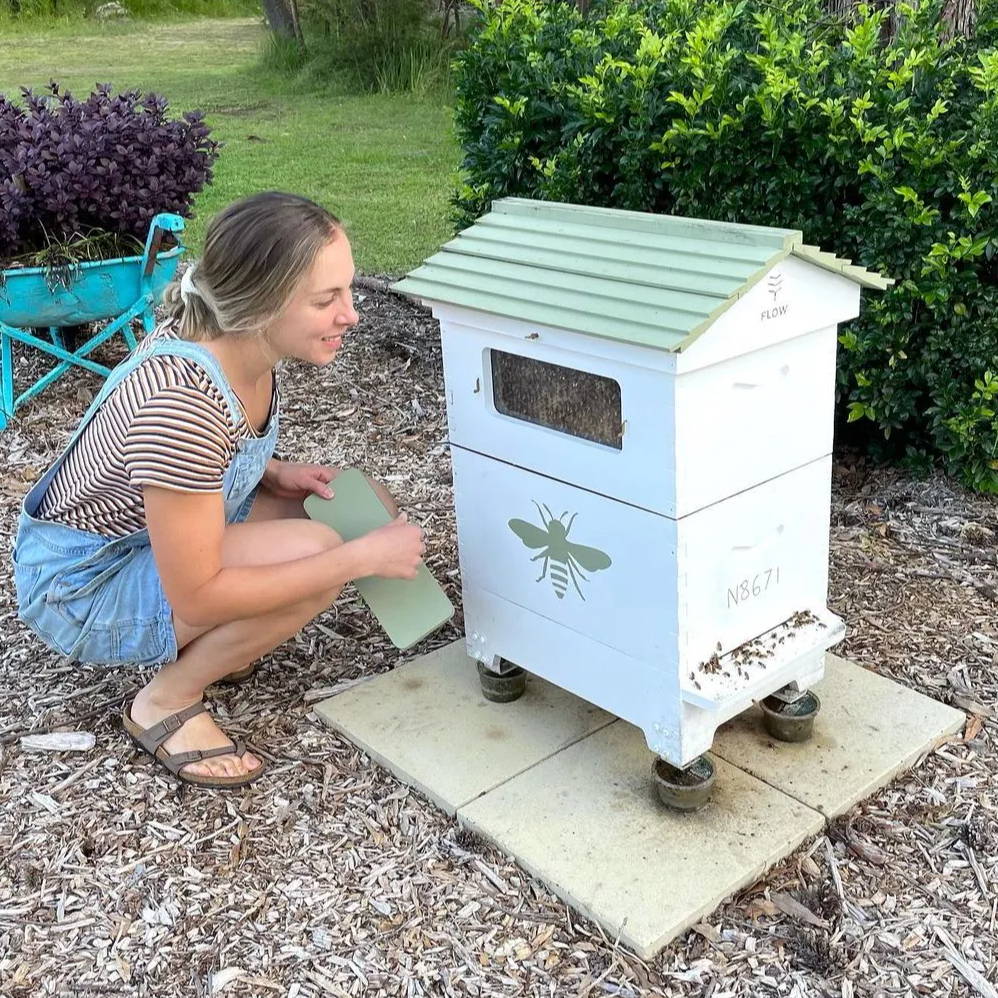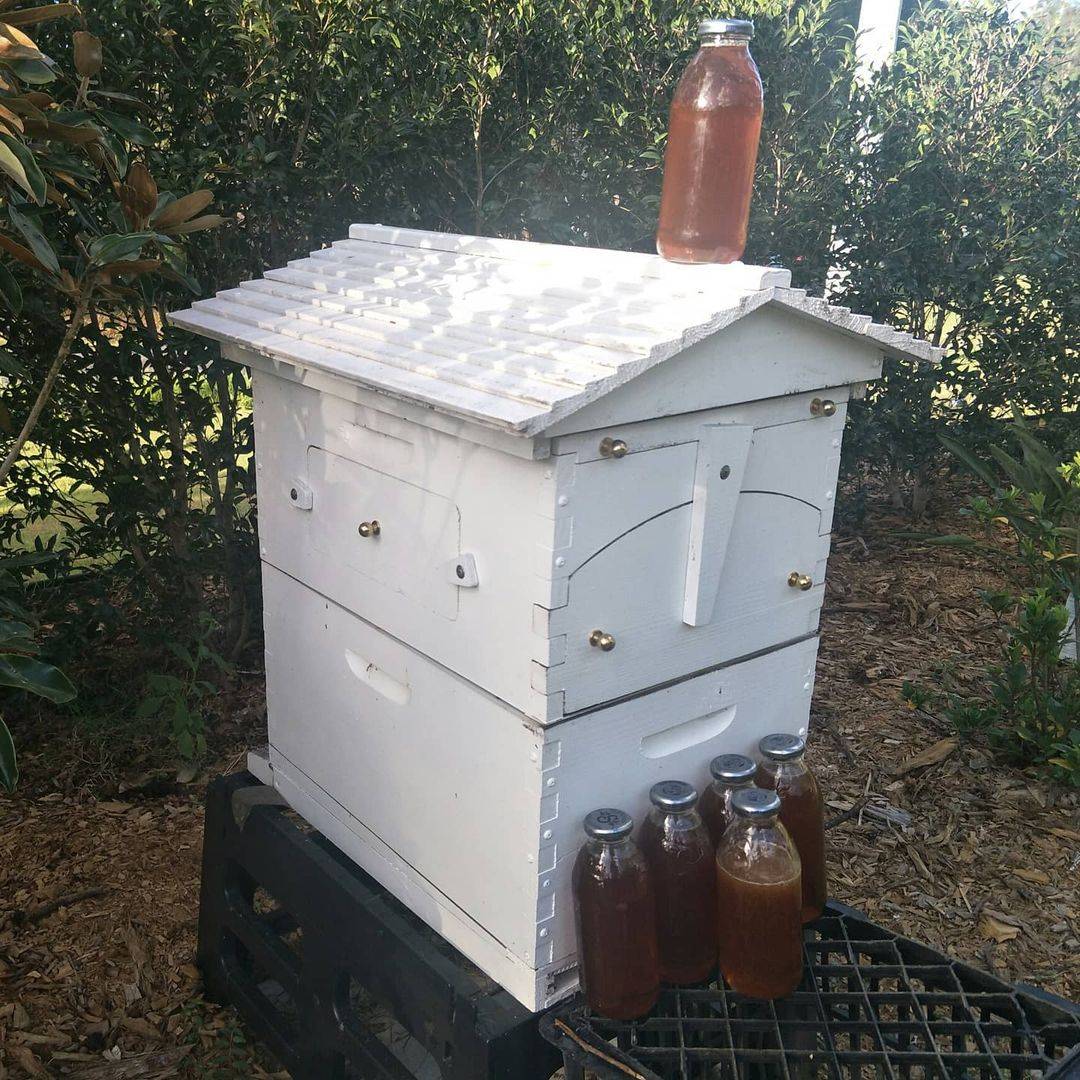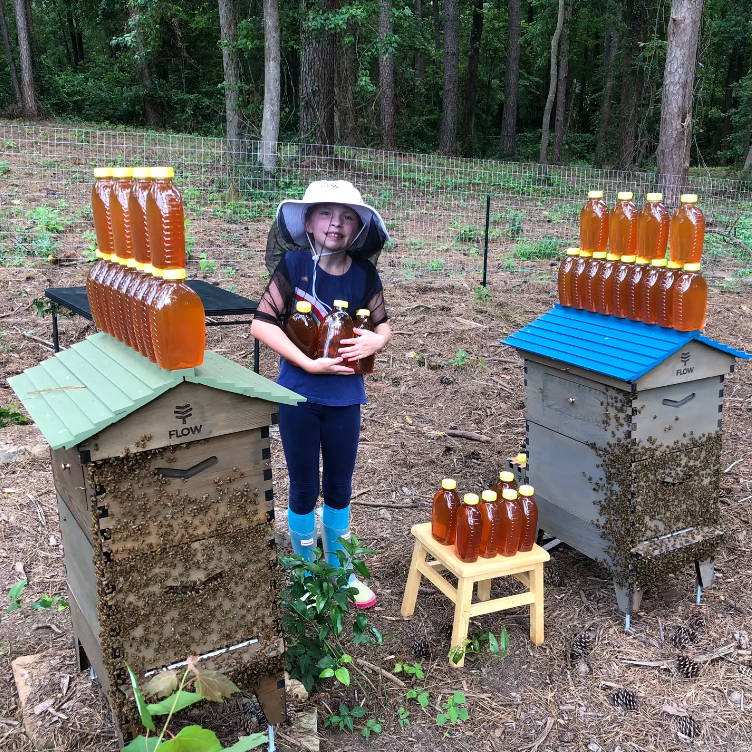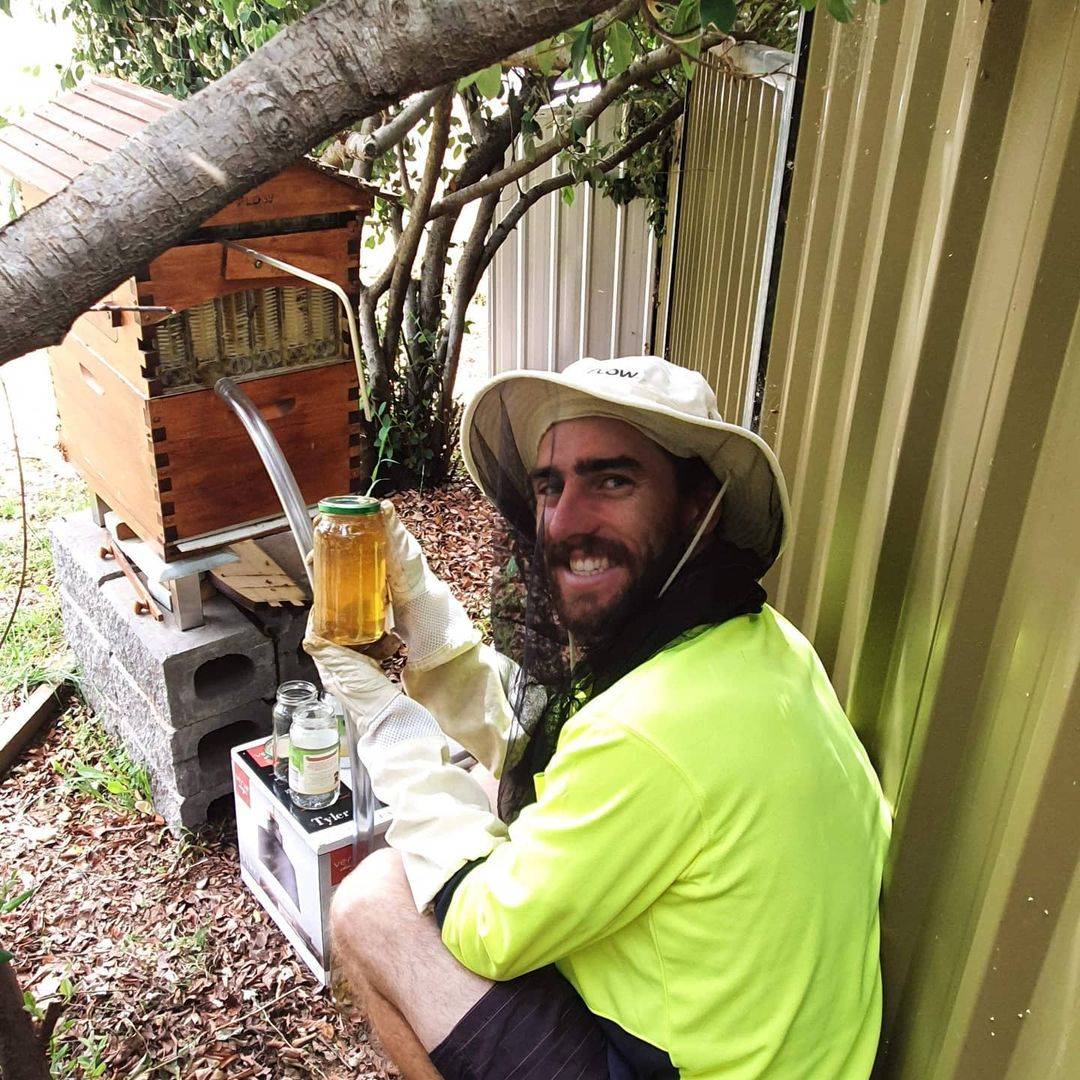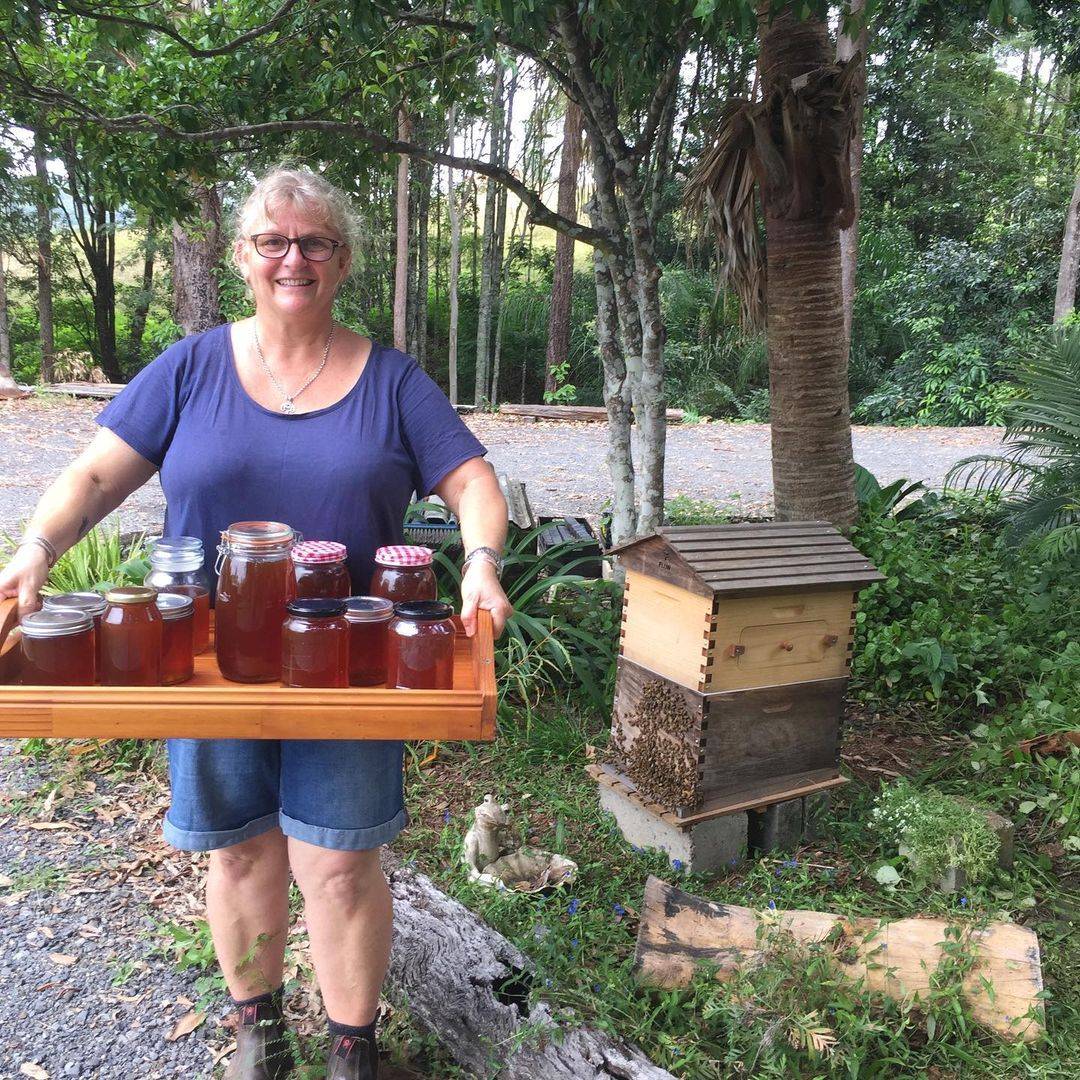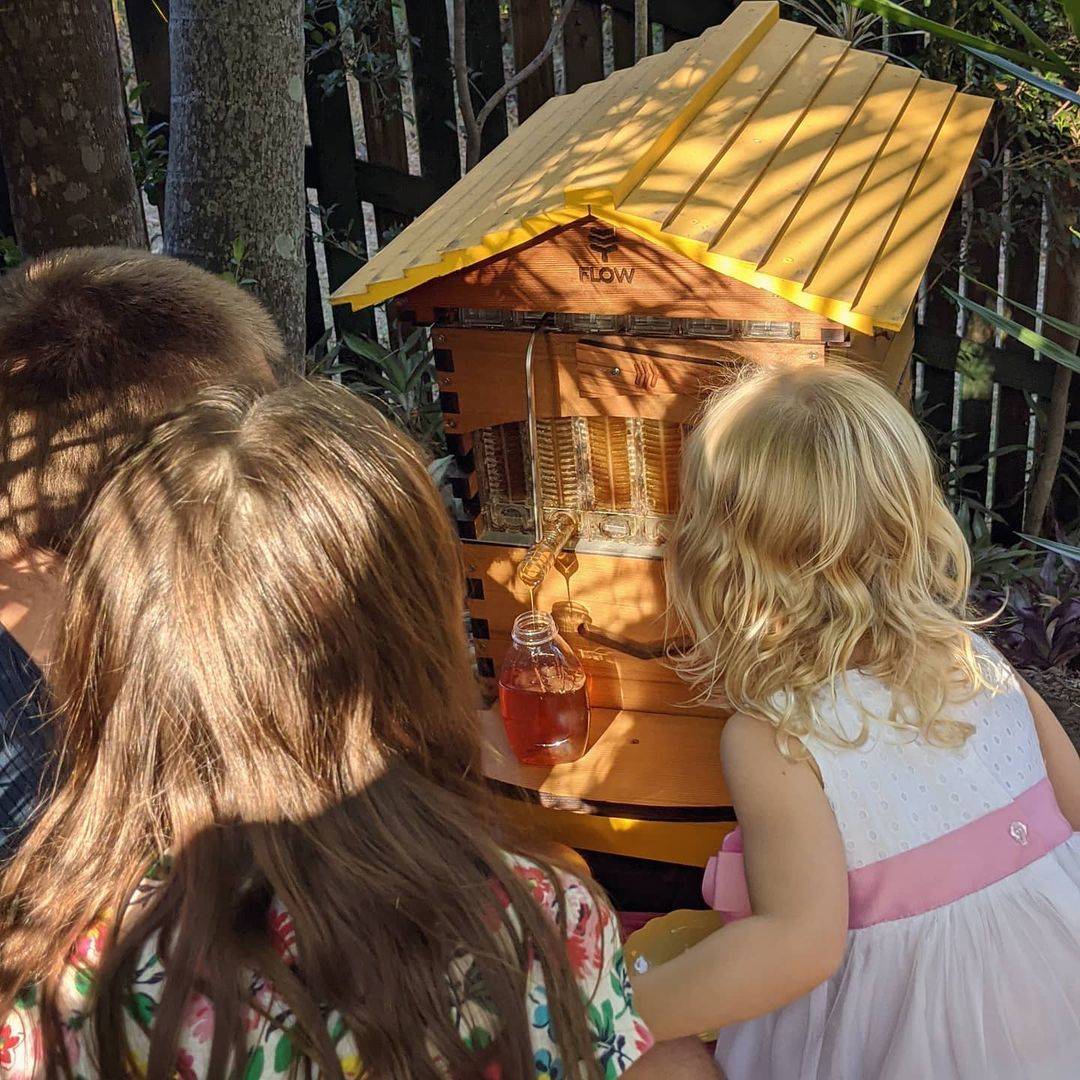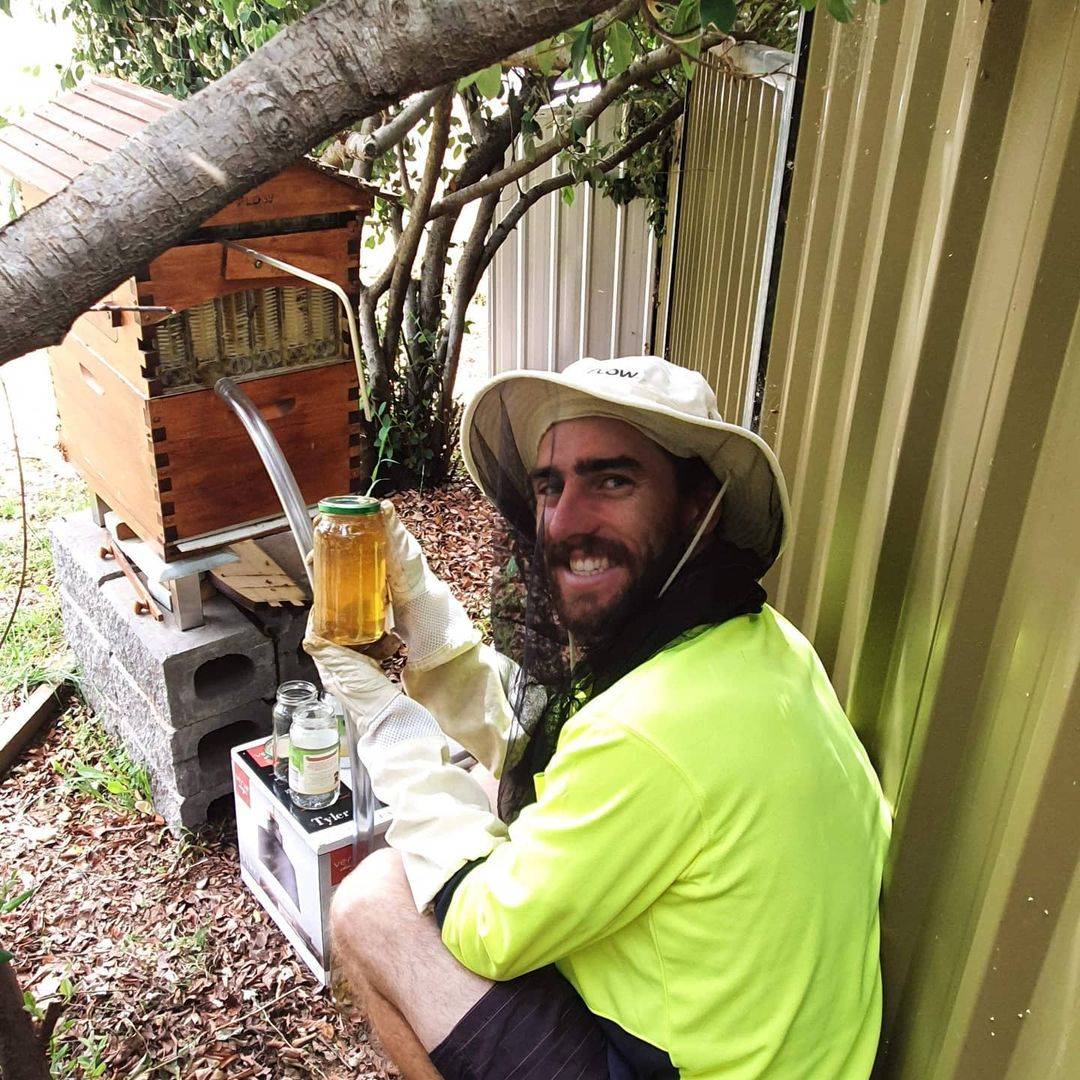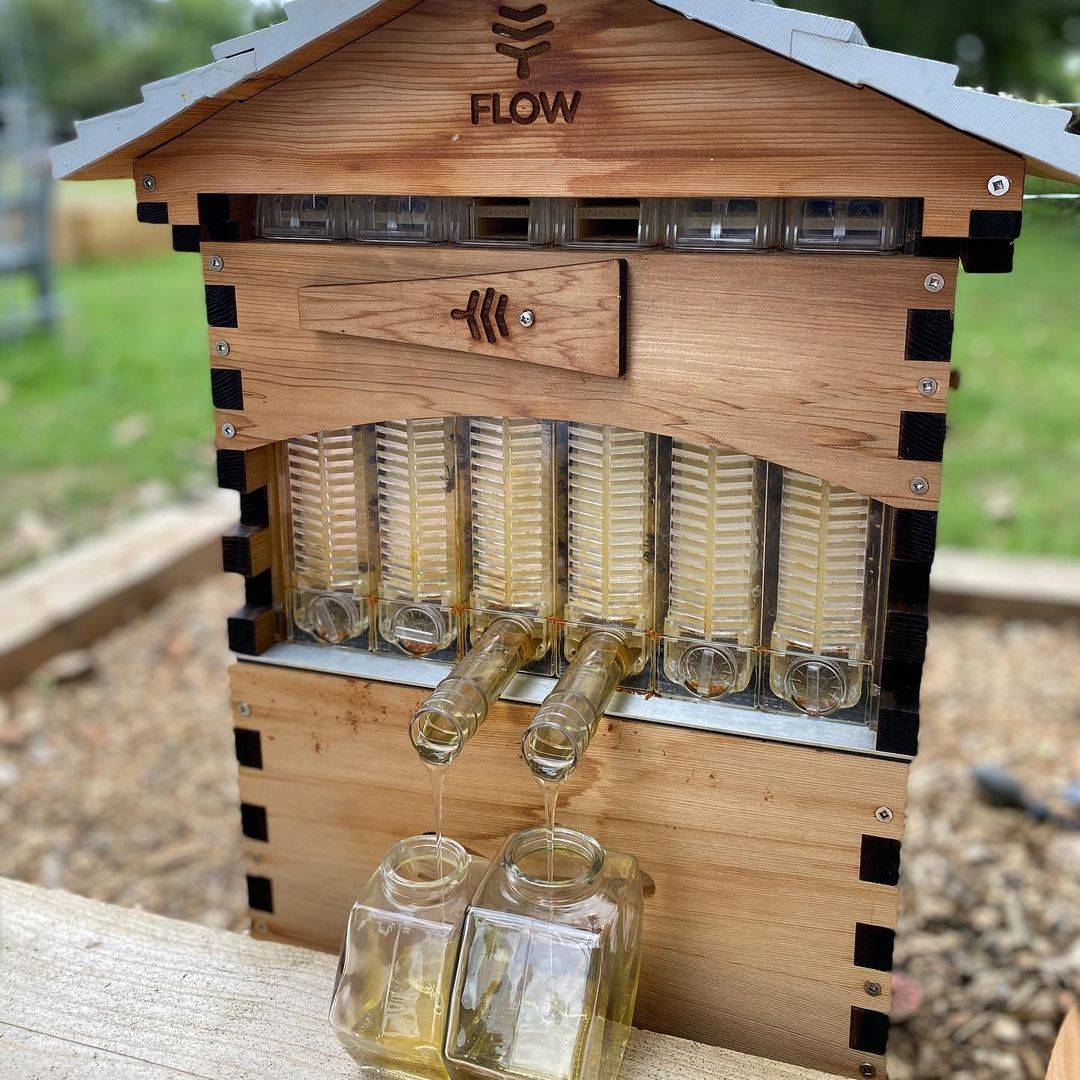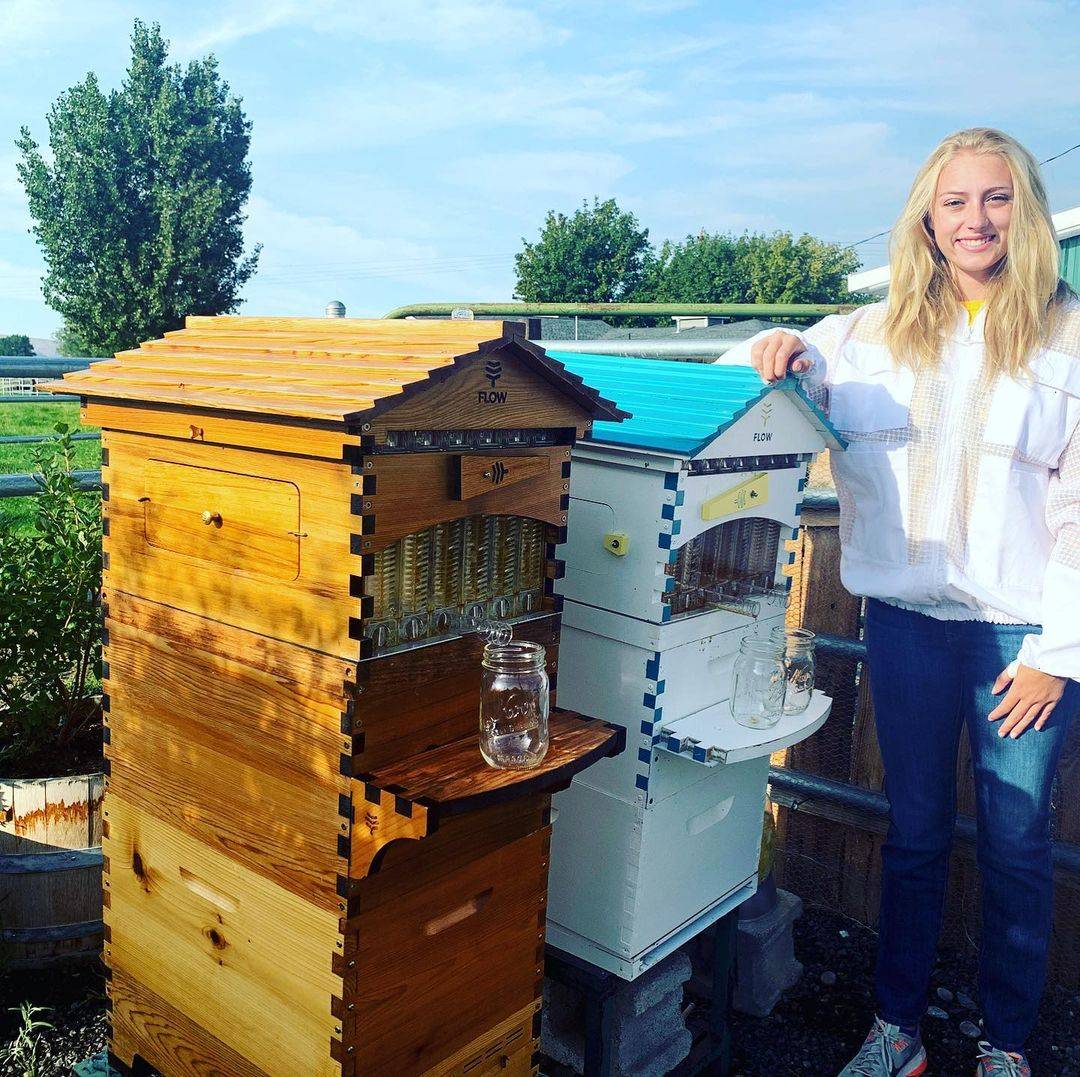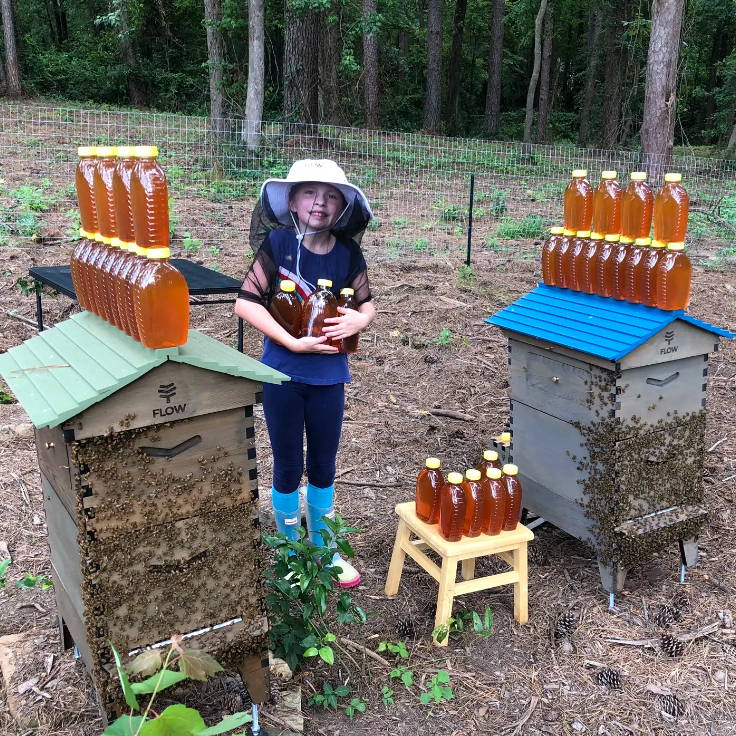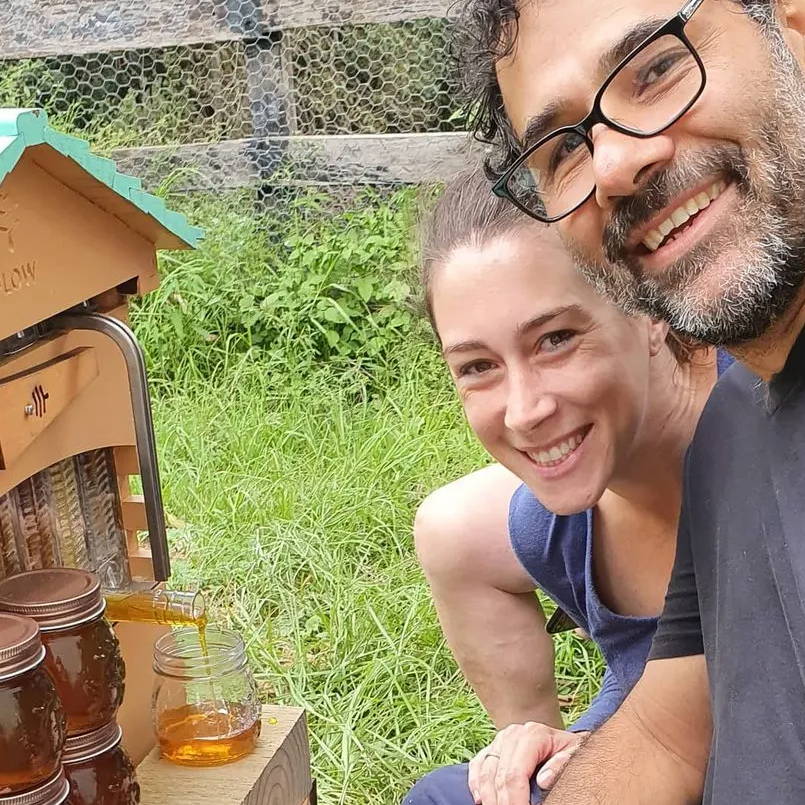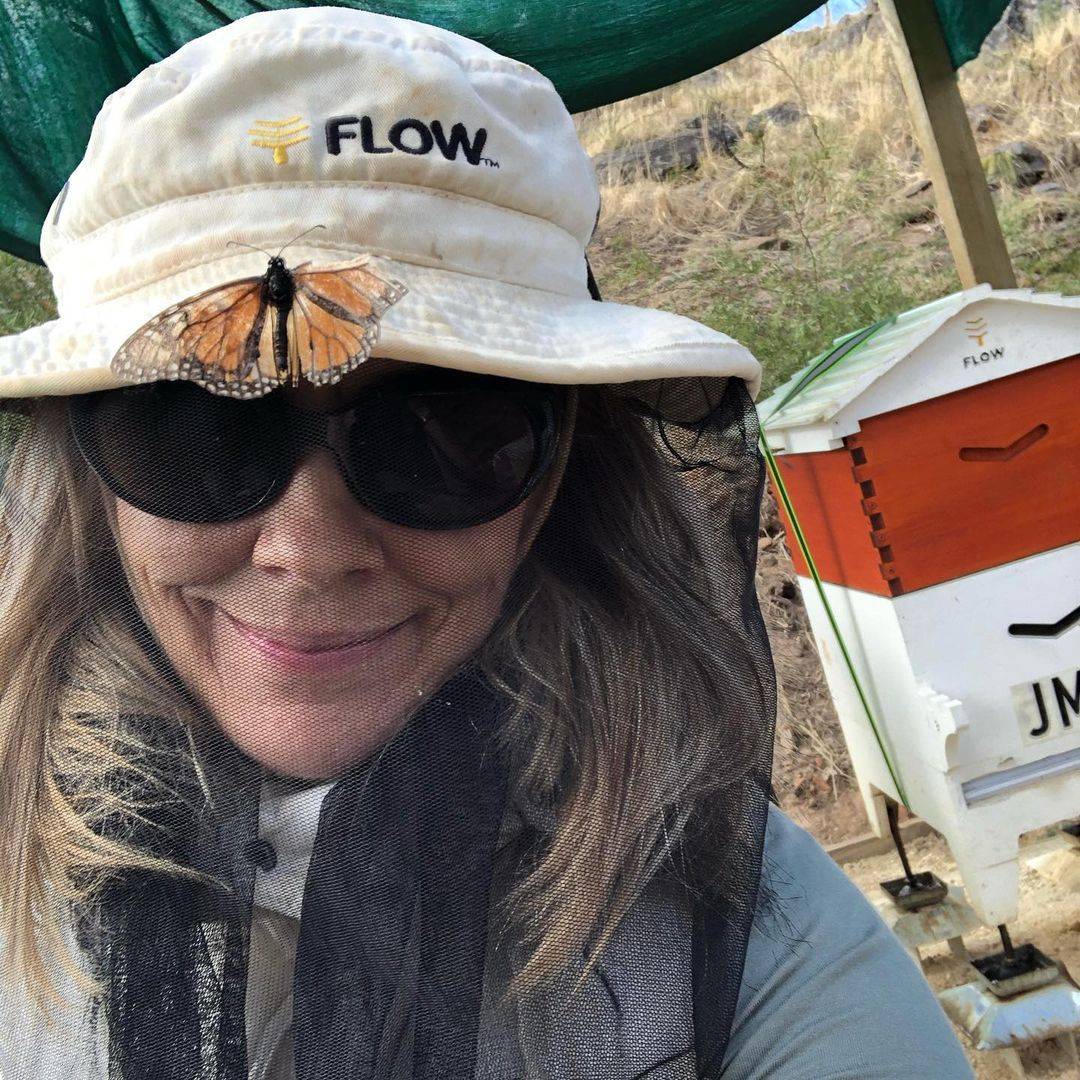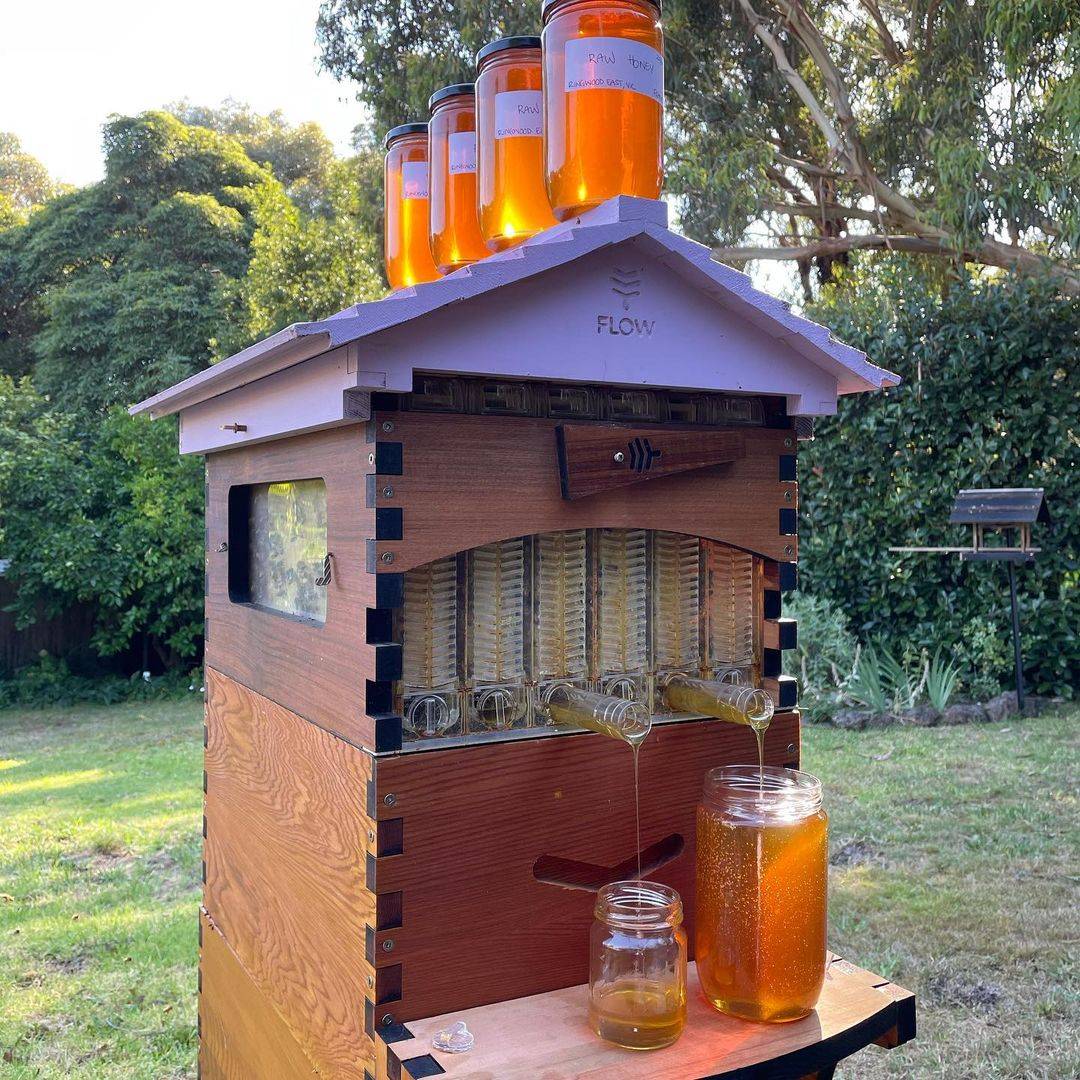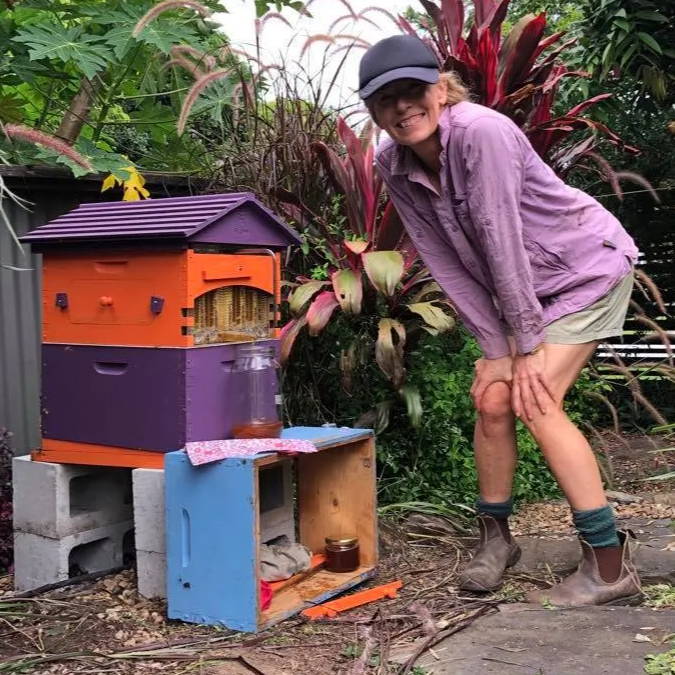 I'm new to beekeeping, is this right for me?
Beekeeping is an incredibly fascinating and rewarding hobby, where the discoveries are endless. Plus the honey really is an amazing bonus! If you're just getting started, we're here to help! Email with our friendly support staff, or phone in and kick back for a good old chat with Trace, or live chat to get fast answers to your buzzing questions.
There is a lot of new beekeeping terminology to learn, from queen excluders to drone bees and all the parts of a beehive. Download our simple PDF guide to beekeeping here to get on top of it all.
Did you know that Cedar connects in with our Flow Community every week livestreamed to YouTube or Facebook? You can ask him questions and have them answered from your lounge room!
Bees rarely find their way into empty beehive boxes, even though they are designed to be a perfect home for them.
There are a number of ways of starting a colony, from buying a package of bees, to receiving a hive split or catching a swarm.
We also have a range of videos and blogs to help you understand the different ways in which you can source bees for your new hive.
I have a small yard or rooftop, can I still have a hive?
Yes! Flow Hives are perfect for setting-up just about anywhere.
You will need enough space to access the back of the hive for easy harvesting and your bees will require a clear space at the front of the hive for their flight path.
You'll also need to check-in with local governing bodies to find out if there are any regulations that you need to be aware of.
Here are some of our top tips on where to set up your beehive.
Is beekeeping a good family activity?
Yes! Getting set up with a Flow Hive is a great interactive family activity as our revolutionary honey harvesting technology removes the need for additional harvesting equipment, making this enjoyable hobby much more accessible.
Harvesting honey together as a family is an incredible experience and enough to entice all members of your family to learn about bees which are completely fascinating! Don't be surprised if you find yourself with extra hands on deck to help out with brood inspections ;)
Make sure you have some extra suits on hand – we have protective wear in all sizes to accommodate all members of the family.
Still have questions? We'd love to hear from you.
Does the Flow Hive work in extreme temperatures?
Yes! The Flow Hive is successfully in use in all climates wherever beekeeping is possible, from the hot Texan summers to the cold Canadian winters.
Is there any safety information I need to be aware of?
Beekeeping is a fascinating hobby which when approached with knowledge, skill and dedication can be incredibly rewarding.
It is important to understand some basic safety guidelines to ensure that your beekeeping experience is a safe and positive one.
Beekeeping suits and other personal protective equipment can offer excellent prevention against bee stings but are not 100 percent effective. It's important new beekeepers exercise caution when tending to their hives and are comfortable with the fact that sooner or later, all beekeepers get stung.
Check out this Flow sponsored safety pamphlet covering common beekeeping safety risks and first aid responses.
What are the terms and conditions of the offer?
A unique coupon with the value of $50 will be generated once per subscriber. You will receive a confirmation email and will be required to click the redemption button in the email to activate the coupon code.
$50 off is available on the purchase of any Flow Hive Classic, any Flow Hive 2 Araucaria, and any Flow Hive 2+ Western Red Cedar.
The coupon is not available to be redeemed on a bundle, spare parts, brood boxes, protective wear or Flow Supers.
$50 coupon expires 31 March 2022.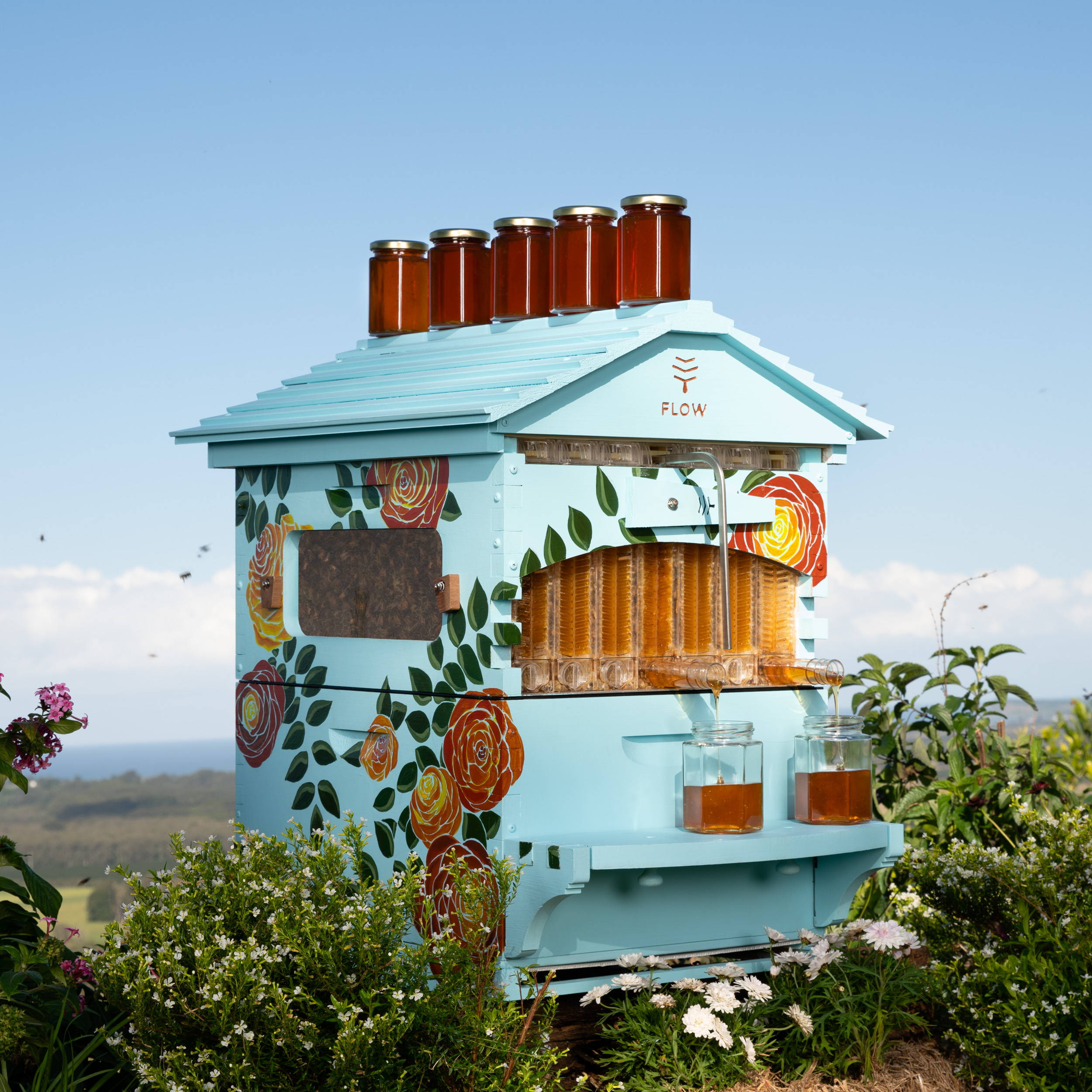 Claim your sweet offer – sign up for $50 off your first Flow Hive!
Terms and conditions
Offer only available on the purchase of any full priced Flow Hive. Limit one per person.
Not redeemable for purchases from a Flow Reseller.
Cannot be exchanged for cash.
Not available with any other offer or bundle.
Valid until 31 March 2022.