Bee the Change!
Here are some little things you can do to have a BIG impact for pollinators.
We love bees and are always on the lookout for ways that we can support these tiny creatures who are essential for the health of our planet.
At Flow, we're focused on finding innovative solutions – so rather than saying "we need to save the bees", we've decided to focus on small practical solutions that we can all make to Bee the Change.
Start in your garden
The widespread use of pesticides is having dire consequences for our bees and our environment.
We all want to protect our produce from opportunistic pests, but how can we achieve this if we put the sprays away?
Meet Robyn, a teacher of permaculture and organic gardening for 40 years and founder of the Permaculture College Australia.

She shares with us some of the most important tips you can use in your garden in order to avoid using nasty chemicals and pesticides.
It's surprisingly easy to start organic gardening and avoiding pesticides, as the following tips are adaptable to all ecosystems – from balconies, to a small suburban backyard, or large property of acres.
There are 5 areas she shares with us which cover: impact of insecticides, diversity and companion planting, crop rotation, habitat creation, and building resilience in your plants.
For beekeeping tips, new products and VIP offers:
You are signing up to receive beekeeping tips, product updates and newsletters. By signing up, you are consenting to our privacy policy but you can opt out at any time.
Fast Fashion v's Eco Fashion
Did you know that all of your buying choices have a flow-on effect?
It's easy to consider the health benefits of reducing your intake of harmful chemicals by eating organic food, however, the choice to buy organic over non-organic is about more than just your health.
Buying organic produce supports organic farming practice, which makes this a commercially viable option for farmers. This has the added bonus of helping farmers to provide clean forage for pollinators and a home which isn't poisonous.
The simple choice of buying an organic cotton T-shirt over a regular cotton T-shirt means that the thousands of flowers grown to produce it have been able to grow without the use of pesticides. This has an enormous effect on the local surrounding flora and fauna.
"Buy less, demand more!" – Patagonia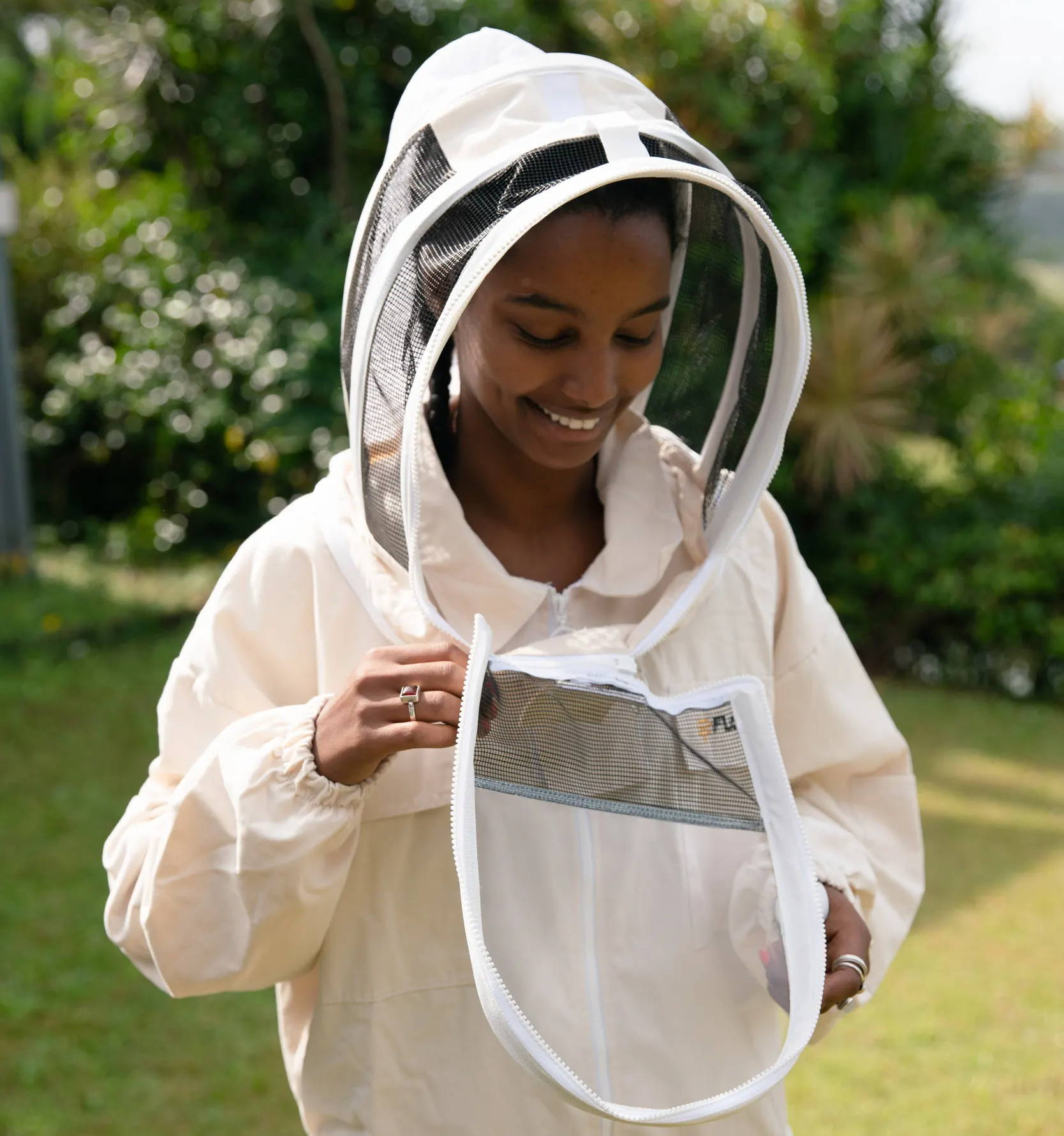 Gardening practices
Even if you don't keep bees, planting a bee friendly garden is something anyone can do.
When selecting your garden blooms, make sure to include some local native plants in a variety of different colours.
Bees, like humans, enjoy diversity. Include flowers of different sizes and shapes and plant in clumps to make foraging a breeze.
Find plants that bloom at different times of the year. Support a range of different pollinators throughout the different seasons. Trees and shrubs produce much higher quantities of pollen and nectar, however, smaller plants produce forage more regularly – it's great to have a selection of both.
Become passionate about rewilding
One of the greatest threats to pollinators is the destruction of habitat.
The clearing of land for development and for agricultural practices, is creating pollinator deserts – not great news for pollinator numbers or our planet.
Thankfully there is plenty we can do to help create pollinator corridors between our wild spaces for habitats affected by land clearing and urbanisation.
Planting foraging resources, such as trees and bee friendly gardens in yards, rooftops and balconies plus creating homes for different varieties of bees by installing pollinator hotels, can help provide stepping stones and may be crucial for bringing some of our important bee species back from the brink of extinction.
Why honey is "sweeter" than sugar
Most people are aware of the health benefits of ditching refined sugar for alternative sweeteners such as honey, yet many don't realise that making this change can also have a huge impact on the environment.
The growing and processing of sugar has major environmental impacts, like loss of habitat, excess water usage, heavy use of agro-chemicals, plus water and air pollution which affects localised and downstream ecosystems.
When you compare this process with the incredible positive impact to the environment when you introduce a beehive – the pollination power of up to 5 million flowers a day! – it really is an easy and sweet change to make.
Are you ready to become a bee custodian?
Our Starter Bundle has everything you need to get started AND a sweet saving.
The perfect hive for new beekeepers – with all the features that made Flow Hive a household name and essential safety gear.
Plus, start learning with one month FREE access to our online beekeeping course.